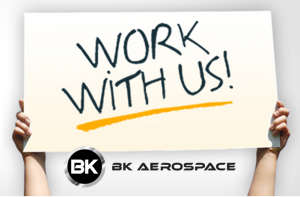 Thank you for your interest in employment with BK. We strive to select and retain the most qualified and skilled employees.
BK Aerospace is an exciting and fast growing small business providing opportunities to both entry level and experienced technical professionals.
Applicant Information
BK Aerospace is an Equal Opportunity Employer.
Please apply with resume or complete attached application.
Please apply by mail, fax, or e-mail only, no phone calls please.
To Apply
Candidates interested in pursuing a career are encouraged to apply by mail or fax by resume/application to:
BK Aerospace
100 Technology Park
Arab, AL 35016
Fax: (256) 753-2253
Or by e-mailing their resume to: email@bkaerospace.com.