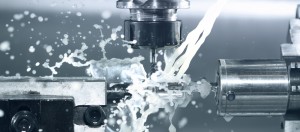 BK Aerospace has the complete modern manufacturing facility and equipment needed to meet our customers' strict product requirements. These often include items of various sizes, shapes and complexities.
Our major shop equipment includes:

3,4, and 5 axis CNC Milling machines
3, 4, and 5 axis CNC Lathes, and Multitasking machines
Manual mills and lathes
Automatic feed Saws
Wire EDMs
Water jet machine
Welding machines
Hones, presses, and grinders
Large Scale 5-Axis Machining and Fabrication
One of BK's key differentiators is its capability to machine, integrate, and produce large scale items.

For a complete description of our major shop and specialty equipment that B-K currently has available, click on the Equipment link.
Paint, Assembly, and Special Processes

Mig and Tig welding
Electron Beam welding
Prime and Paint
Ceramic Metallic coating
Chemical Agent Resistant Coating (CARC)
Shot peen
Grit blast
Stencil
Silk screen
Assembly